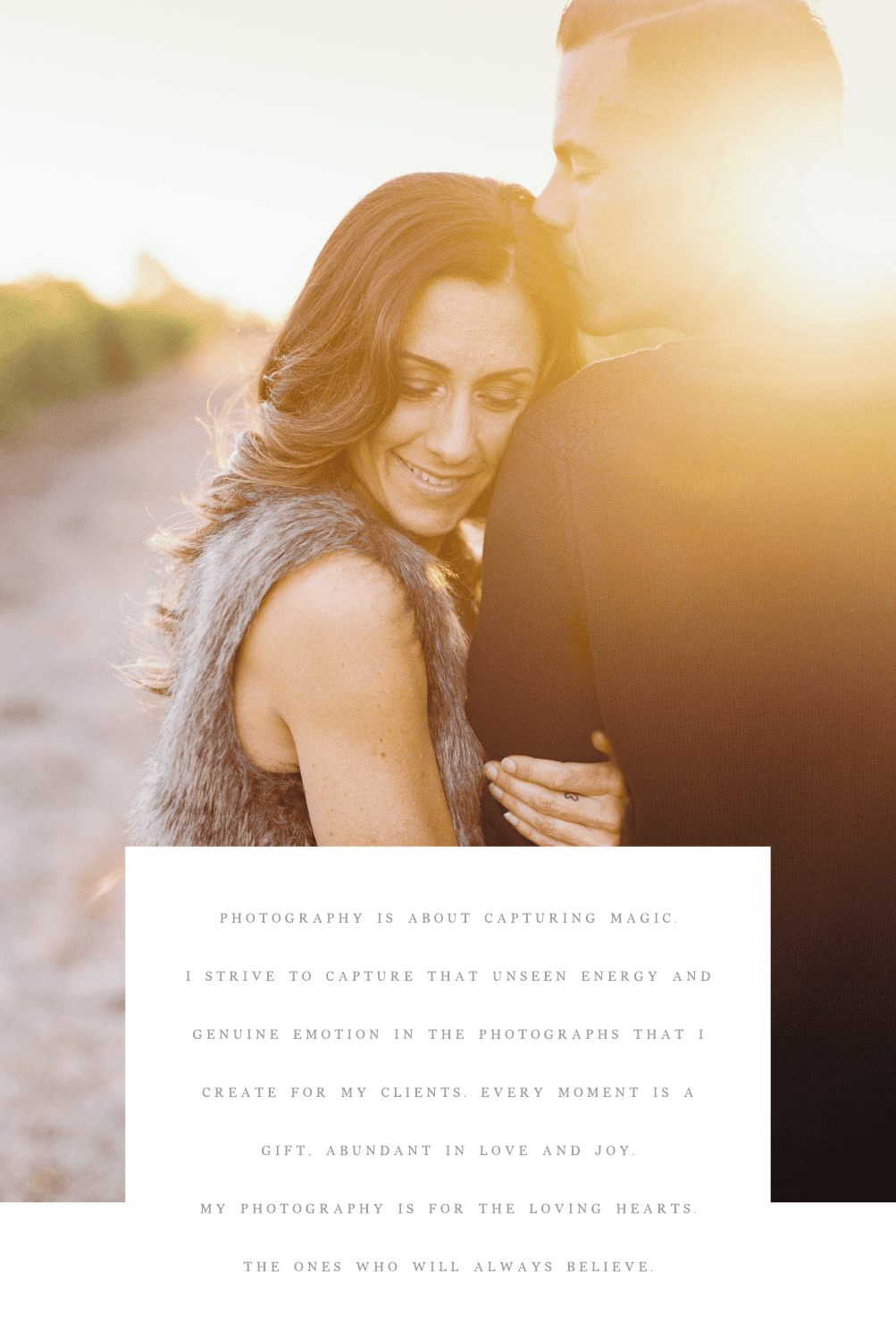 I wholeheartedly believe in love, which is why I'll countdown to your wedding with joy and excitement, I'll likely cry while you're reciting your heartfelt vows, and I'll give you the biggest squeeze before the night ends, because I just don't want the fun to end.
I've been a wedding photographer for over 8 years and I've documented over 250 weddings. That's 250 best days ever, with 250 out of this world amazing couples, their warm and welcoming families, and countless friends traveling from all over the world, to celebrate love!!! It doesn't any more rewarding than that.
I'M MARRIED TO THE LOVE OF MY LIFE AND MY BEST FRIEND. WE MET IN JR. HIGH SCHOOL, ALTHOUGH WE DIDN'T START DATING UNTIL A FEW YEARS AFTER HIGH SCHOOL. ALMOST 12 YEARS LATER AND WE'VE BUILT A LIFE THAT CONTINUES TO AMAZE ME EVERYDAY. BESIDES BEING MY BIGGEST SUPPORTER, HE'S ALSO MY SECOND PHOTOGRAPHER. HANDSOME, SUPPORTIVE, AND CREATIVE?!?! BELIEVE ME, I KNOW HOW LUCKY I AM.

I LOVE TO TRAVEL WHENEVER POSSIBLE. OAHU, MAUI, CABO SAN LUCAS, ANCHORAGE, AND LAKE TAHOE ARE JUST ARE A FEW OF MY FAVORITE SPOTS. BALI, THAILAND, AND GREECE ARE ON MY BUCKET LIST!


I'M OUTGOING AND BUBBLY WITH AN INFECTIOUSLY POSITIVE PERSONALITY.
I DANCE ALMOST EVERY SINGLE DAY. IT KEEPS ME HAPPY, AND BONUS, TAKES THE PLACE OF CARDIO.
I BELIEVE A GRATEFUL HEART CHANGES EVERYTHING.
I WILL DO A HAPPY DANCE WHEN I TAKE AN EXCEPTIONALLY AWESOME PHOTO OF YOU TWO. GET READY FOR MY AMAZING DANCE MOVES.
ONE OF MY FAVORITE WEDDING DETAILS IS THE BRIDE'S BOUQUET. OVERSIZED BOUQUETS, PACKED WITH FREE FLOWING BLOOMS, LOVINGLY TIED WITH LONG RIBBONS FULL OF TEXTURE, ARE MY FAVORITE.
I'M AN ETERNAL OPTIMIST AND BELIEVER IN ALL THINGS WONDERFUL AND HEARTWARMING. THE POWER OF POSITIVITY IS AMAZING.